What is Balayage? Everything You Need to Know About This Trendy Hairstyle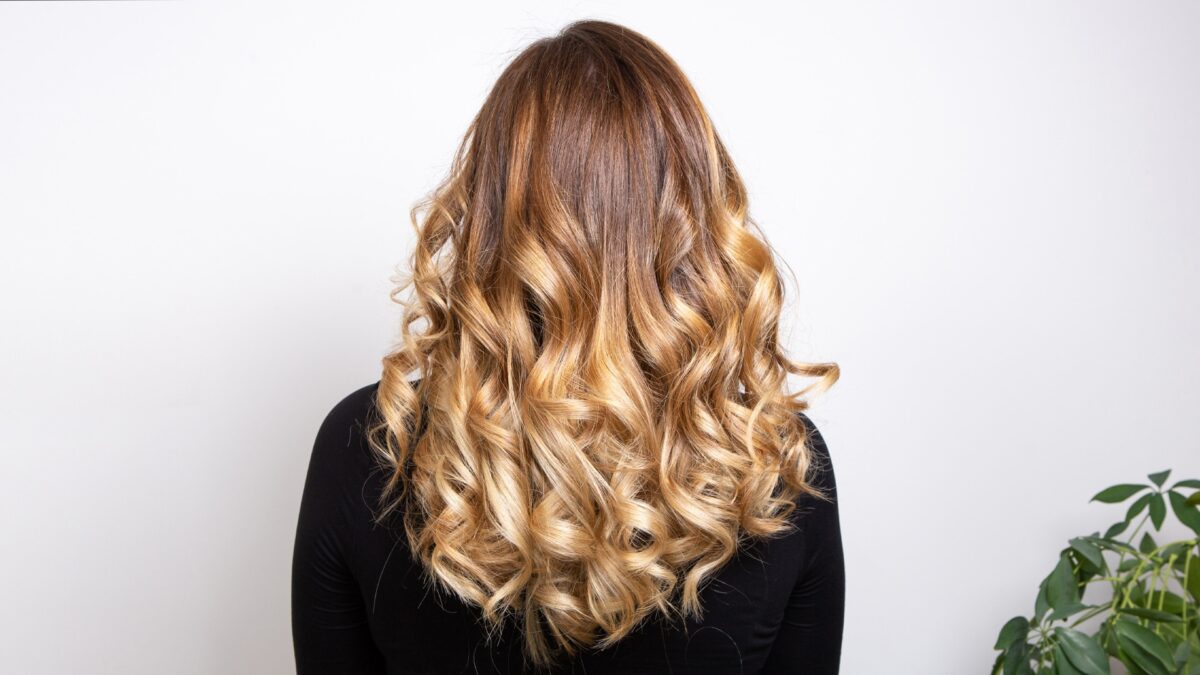 There's a reason "new hair, new me" is such a popular caption on social media: beautiful, trendy hairstyles and colors make you feel more confident. In recent years, balayage remains one of the most popular confidence boosters.
Balayage has been around for a while, and its popularity has been increasing consistently. In fact from 2020, Google and L'Oréal Professionnel have reported a 170% increase in online searches for the technique.
From musicians to models, everyone seems to have fallen in love with balayage. Read on to learn more about this unique trend that continues to take the beauty industry by storm. 
What is Balayage?
Originally invented in the 1970s, balayage means "to sweep" or "to paint." It is a soft coloring technique that makes your hair look extremely natural. 
"Clients love it because it gives a natural sun-kissed look, and maintenance is easier than traditional highlights," says Joel Warren, founder of The Salon Project. 
3 Balayage Hairstyles
Since the 70s, this hairstyle has grown and changed with the times. It has evolved into numerous distinct versions of the original style. Though these versions may differ depending on where you live, they all share the same uniqueness and natural sheen. 
Want to try out some of these looks for yourself? Here are a few styles you should look into. 
 1. Ribbon Blonde Balayage
Experts originally coined the term "ribbon blonde" at Los Pastel's dreamy salon in Australia. Since then, this type has spread worldwide and become more popular during the Covid-19 pandemic. Ribbon blonde involves infusing tonal ribbons of blonde against a darker base color. 
2. 3D Balayage
In 3D balayage, stylists apply multi-tonal dimensions to make your hair look more voluminous. Rather than using one single lighter color, we apply two more lightweights along with slightly darker shades to achieve this look. 
3. Smoky Gold Balayage
Smoky gold balayage is the perfect hairstyle for winter, which can be especially tough on hair. It starts as a dark blonde, but then picks up ash and espresso tones, making your hair feel soft and glossy.
Balayage vs. Highlights
One of the main questions clients pose is which lightening service would be best for them. Along with balayage, highlights remain a popular option. Though these services may appear similar at first, they offer different benefits. 
Unlike traditional highlights, balayage is a freehand technique. Balayage also promises you more natural, blended hair tones, while highlights are more uniform. This is because highlights only require color application on the brighter areas of your hair. 
Those who opt for a balayage style also experience less regrowth than those who choose to get highlights. 
Balayage vs. Ombre
On the other hand, the ombre hair color transitions from dark to lighter shades. Specifically, the body of your hair grows progressively lighter from your darker roots to the lighter tips. 
Although most people do not know how to differentiate between ombre and balayage, balayage is only applied to certain strands of hair, while ombre is applied to all of your hair. However, you can also opt for both styles together.
What You Should Know Before Getting Balayage
Not only does it look beautiful, balayage will also relieve the stress of maintenance. This means you will not need to go to the salon very often. 
However, you will need the help of a skilled stylist who has the experience and creativity required to perform the application correctly. It is also vital to not bleach your hair.
Benefits of Balayage
The technique has many benefits compared to others. It is an entirely customizable color service that gives you a fresh look. In summary, here are a few of the benefits you should know:
It is more natural

:

Balayage is the right style for you if you prefer natural looks. The dyed strands will blend easily and beautifully with your natural base. 

It is low maintenance:

The lack of regrowth makes this hairstyle very easy to maintain. Your hair color may even stay intact for up to a year after your initial salon visit. However, for a quick color refresh, some clients may opt for visits every 6-8 months, or even 6-10 weeks.  

The damage is minimal:

Unlike other styles, balayage does not require us to saturate the whole strand with color. Instead, our focus is the surface of your hair. This eliminates most of the damage normally associated with hair lightening procedures. 

It's trendy:

This hairstyle is the talk of the town. A simple search for "balayage" on Instagram yields more than 20 million results. Even celebrities like the Kardashians and Chrissy Teigen have been using it to keep their hair looking fresh.  
How to Balayage
This style is simple enough to apply at home or at a salon. There are also many ways to do it. However you will still need some tips from your stylists and colorists to make it look soft and seamless. 
Here are three easy steps to get you started:
1. Choose Your Preferred Color
To pick an appropriate color, we always start with a consultation appointment. The first question we ask is always whether you have any inspirational pictures that showcase what you want. This helps us determine whether the style is realistic.
The second question we ask is how many shades of blonde you want on the ends. This will determine whether you will need a full saturation. Then, we consider your natural hair color before we choose the shades we will apply.
If you have dark, cool brown hair, we recommend you choose a light blonde color. If it is a warm brown, choose a caramel shade instead. 
For blondes, a flaxen or beige balayage is the way to go.
2. Apply the Hair Dye
Stylists usually use simply blonde clay lightener because it has all the characteristics needed to create these natural shades. 
The clay lightener maintains moisture on the inside, and it delivers up to 7 levels of lift in a single application. Concentrate on lightening the face-framing pieces first, then the ends, and then finally the surface.
Here are a few steps to help you along the way:
Prepare your kit and put a towel around your shoulder.

Test the dye before applying it. You can do so using one strand of your hair.

Separate your hair into three sections while ensuring you leave a thin and wispy strip at the bottom.

Use a brush or your fingers to apply your dye.

Rinse it out with shampoo.
3. Maintain Your Balayage Look 
When we say balayage needs minimal maintenance, we don't mean to suggest that it requires no maintenance at all. Consider these few tips to better maintain your beautiful balayage.
Repeat the balayage process every 2-3 months.

Wash your hair consistently with a color-correcting shampoo that won't fade your dye.

Apply a hair mask every week to hydrate your hair.
How Can You Tell if Your Balayage Hair is Done Correctly? 
Once you've completed this lightening process, you may be wondering whether everything looks the way it should. 
To determine if you or your stylist has done a good job, your main focus should be the surface of your hair. The dyed pieces should be fairly close together. 
Then, look at  the roots, which should be soft. Finally, look at the ends. They should have darker and thicker slices of color. If you lack any of these key elements,  your balayage was applied incorrectly.
Frequently Asked Questions and Answers
What is the Best Way to Do Balayage?
Depending on the viscosity you prefer, you can mix a blonde clay lightener with a ratio of 1:2 or 1:3. The process takes 45 minutes. Also, use simply a 20V or 30V developer. 
After choosing your lightener, we advise that you section your hair carefully. Customize the sections according to the client's natural parts. 
You can dry brush the backside and diagonal subsections using high tensions. However, in the front, focus on the hair pattern. After you've finished sectioning, apply the lightener.
As you continue the application process, avoid using too much product. Failure to do so may cause some bleeding. Add the product bit by bit and apply pressure while pulling the hair away from the face. 
Can You Apply Balayage at the Same Time as Other Techniques?
Yes, you can. However,  create a solid plan before you start. Only combine two techniques if you are positive that the result can actually achieve the effect you want. 
How Can You Fix a Brassy Balayage on Dark Hair?
First,  compare your current brassy shade to the shade that you wanted to achieve. Then, use a toner to neutralize the brass until it reaches the color you want. 
Is There Any Hair Color That Doesn't Work with Balayage?
We can apply balayage to any hair type, color, and length. The application process is always gentle and natural.
How Much Does a Balayage Cost?
The price differs from salon to salon, but it often depends on the type of balayage you apply. In many cases, it can cost you up to $200-$300. 
How Long Does It Take You to Do a Balayage?
This technique usually takes 45 minutes or less. However, a layered balayage takes three or more hours.
If you are looking for a natural, beautiful balayage hairstyle, Cutters Hairdressing is happy to help you get the hair of your dreams. Contact us today to learn more.