How to Curl Your Hair: Create These 9 Different Waves Using the MUK Curl Stick
Curly hair never goes out of style! It doesn't matter if your hair is long or short – achieving the right curl isn't nearly as challenging as you may think, especially if you've got the right tools at the ready. If you're wondering how to curl your hair and what the best tools are to get the job done, then you'll want to get your hands on the MUK Curl Stick!
Introducing the MUK Curl Stick
The MUK Curl Stick is an incredibly smooth titanium curling stick with four interchangeable barrels.
With a rapid heating process and five temperature settings, you'll have your new curls ready to go in no time. The MUK Curl Stick also comes with a heat-resistant styling glove and a two-year, new-for-old replacement warranty.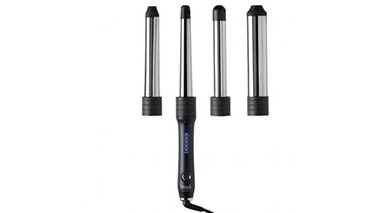 How to Curl Your Hair 9 Different Ways with the MUK Curl Stick
Once you've got your new MUK Curl Stick, we're sure you'll be eager to try it out. Not quite sure where to begin?
Before getting started, you'll want to:
Apply a heat protectant
Section and brush your hair, then clip back
Spray each section with hairspray before curling
Curl one section at a time
Learning how to curl your hair isn't nearly as difficult as it may seem. Here are nine different ways to achieve the perfect curl with your new MUK Curl Stick:
1. Lazy Curl
To achieve this loose wave curl from Samvilla, take your iron and wrap your hair around it, but only halfway down. Once you're halfway, swap directions, then repeat throughout the rest of your hair. Make sure you aren't wrapping the hair too tight, and only hold it on the Curl Stick for two or three seconds.
2. Red Carpet Waves
Here's another option from Samvilla if you want to try going for a muted, dramatic wave. Wrap your hair flat around the barrel, but as you wrap, softly twist the section. To prevent your curl from collapsing, make sure you hold your hair on the iron a few seconds longer than you usually would.
3. Natural Curl
Inspired by Luxyhair, this method has you grab a section of hair and wrap the top part away from the barrel. Hold for a few seconds, then use the remaining hair and, this time, curl it towards your face. Release the curl into your hand and hold it for a few seconds before letting go.
4. Super Tight Curls
To achieve a super tight, almost perm-like curl, you'll want to start with your smallest sized barrel. Then simply wrap your hair around the barrel and hold it there until the curl sets – usually around three to four seconds. Allow your hair to cool, and spray it with your favorite hair spray. If you want super tight curls, do not brush through the curl, as this will cause it to loosen. Once it's cooled and you've applied your spray, you can use your fingers to separate your curls for a voluminous look.
5. Beach Waves
If you're going for a more natural, beachy look, then you'll want to choose the 28-22mm wedge barrel. The key to the perfect beachy waves is not to overstress your technique. All you want to do is loosely wind your hair around the barrel, leaving the ends straight, and hold for three to four seconds. If the curls are still a little too tight for your liking – simply brush through the curls to give them a softer, looser look.
6. Ends to Middle Curl
An ends to middle curl is often referred to as an Old Hollywood glam curl. Depending on the barrel size you choose, you can create a bottom-heavy glam vibe or choose a looser, more glamorized vibe. Once your MUK Curl Stick is nice and warm, you'll want to wrap your ends around the barrel and then start to curl up – only going halfway up the section.
Let it set for three to four seconds and then start to pull the barrel out, keeping the curl intact. Clip the curl and allow it to set until cool. Once cool, you can either leave the curl as-is for a glamorous look, or you can run your fingers through the curl to give it a more relaxed look.
7. Tight Twists
Tight curls are a great way to help give your hair a bit more volume. However, it can be challenging to achieve that voluminous look you want if you have thinner hair. Instead of simply using the smallest barrel and curling, as usual, you'll want to create thinner sections and tightly twist each one before you wrap it around the barrel.
After allowing it to set for a few seconds, release the curl and brush your fingers gently through each one to give it a more voluminous look. Avoid using a brush or comb (unless you're using a wide-tooth comb). Otherwise, your curls may become frizzier than desired.
8. Spiral Curls
If you're a bit more advanced with a curling stick, then you may want to try and attempt a spiral curl. This one is a bit tricky because you need to make sure you are twisting the section as you wrap it around the barrel, and ensure that the twist is continuously going in the same direction.
If that seems a bit too complicated, you can also create smaller sections and braid them before wrapping them around your barrel. You want to allow your hair to heat up a bit more than you normally would to ensure that the curl actually stays, since spiral curls tend to collapse much easier when they aren't given a chance to really heat up or cool down before brushing them out.
9. Dual Spiral Curls
Suppose you're feeling extra-creative and want to achieve a dual spiral curl. When looked at carefully, these curls tend to have a double helix shape and appear to intertwine with one another. To accomplish this look, follow the steps to create a spiral curl. However, you want to alternate which direction you twist each section of hair.
By alternating the direction of the twist, you'll notice that your curls start to intertwine together, giving them that double helix shape.

Get Your Hands on the MUK Curl Stick Today
Learning how to curl your hair comes through trial and error. With a bit of help, you can avoid some of the most obvious mishaps. The MUK Curl Stick enables you to try out dozens of techniques. Before you know it, you'll be a pro!
Sick of wrestling with messy hair and ready to tame it into luscious curls? Try the MUK Curl Stick today.