Everything You Need to Know About Keratin Hair Treatment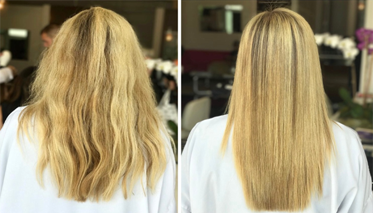 Do you long for model-like, super-straight, silky hair cascading down your shoulders? Keratin hair treatment can give you that smooth, shiny hair you desire.
Keratin treatment is immensely popular among . However, like all chemical-based hair treatments, it has its problems.
The de-frizzing treatment is not suitable for all hair types, and it may not work the same way for everyone.
What is keratin treatment and how does it work? Is it safe? How much does it cost?
In this post, we will tell you everything you need to know about keratin hair treatments. By the end, you can confidently decide if this procedure is meant for you.
What is Keratin Hair Treatment?
Keratin is a natural structural protein found in human hair, nails, and skin. It is also used in hair products to strengthen hair and give it a shine.
Hair becomes frizzy when its cuticles lift. When this happens, dust and moisture can enter and settle into the hair. Keratin-based products smooth down your cuticles and seal them, thus preventing frizz and breakage.
In addition to making hair smooth and shiny, keratin is also used to straighten hair. This is a semi-permanent treatment. However, the keratin itself is not the only factor at work.
To straighten the hair, it is treated with a solution. This solution is a formaldehyde derivative, called glyoxylic acid.
Glyoxylic acid eliminates frizz and brings each hair strand into a straighter position. Then, the hair is blow-dried and sealed with a hot-iron treatment.
Some treatments straighten the hair completely, while others merely loosen unmanageable curls.
There are several different versions of keratin treatment, including Brazilian Blowouts, Cezanne treatments, and Goldwell Kerasilk treatments. Some of these release treatments of formaldehyde when heat is applied, but newer versions are formaldehyde-free.
Note that the formaldehyde-free solutions only de-frizz hair without changing its texture.
Is Keratin Treatment the Same as a Japanese Relaxer?
Keratin treatments are different from Japanese relaxers. Keratin is far less harsh than relaxers, and it keeps the hair soft and healthy. Traditional Japanese relaxers use ammonium thioglycolate and sodium hydroxide, which can cause hair damage.
Keratin hair treatments are temporary and the effect wears away over time. On the other hand, relaxers break down the molecular bonds in the hair. That way, the hair is permanently straightened.
Is Formaldehyde Dangerous?
Most hair straightening products use formaldehyde, which the International Agency of Research on Cancer classifies as a human carcinogen. This gas is released into the air during the straightening process.
Formaldehyde can have short-term and long-term effects on your health.
Inhaling over 0.1 ppm of this gas can increase the risk of severe eye irritation, nose and lung congestion, skin allergies, and dermatitis.
Long-term exposure can cause dizziness, headaches, nausea, chest pain, respiratory tract issues, coughing, wheezing, rashes, and even neurological problems.
Those sensitive to formaldehyde should avoid using products that contain it. Instead, formaldehyde-free treatments or those using glyoxylic acid are better options. They may not straighten hair as dramatically, but they are much safer.
How Long do Keratin Treatments Last?
The effects of keratin treatment can last for a few weeks up to about 6 months. After that, your hair will return to its original texture.
To make it last longer, you should:
Avoid wetting your hair for at least three days after treatment
Stay away from ponytails
Keep your hair as straight as possible
Use a sulfate-free shampoo
People with natural curls should do the following:
Avoid wetting hair for at least three days
Use sodium chloride-free hair products
Wrap hair in silk or satin to keep it moist
Keratin Treatments: Answers to Common Questions
Here are the answers to some commonly asked questions about keratin hair treatments:
1. Can I get keratin treatment over a relaxer or on coloured hair?
Yes, you can get keratin treatment done over a relaxer as long as the relaxer was nonacidic.
You can also treat coloured hair. For best results, use a sulfate-free shampoo. To maintain your treated hair, only shampoo your hair once or twice a week and condition it more often.
2. Who should opt for keratin treatments?
This treatment is ideal for those with coarse, frizzy, and unmanageable hair. It can also help people with curly hair straighten their hair in a healthy way.
3. Who should avoid this treatment?
Those who are allergic to formaldehyde, have damaged hair, or have very thin hair should avoid keratin treatments. Pregnant women are advised to avoid them as well.
4. How long does keratin treatment take?
Keratin treatment typically takes two to four hours in the salon. It starts with a hair wash and conditioner. After a rough dry, the formula is applied to the whole head.
The setting time lasts for about 30 minutes, after which the hair is ironed to straighten it.
5. Does keratin treatment damage the hair?
Keratin treatments are not necessarily damaging to hair. On the contrary, they could even nurture hair.
The damaging factor is the hot iron. This could be especially detrimental to treated hair. Contact your stylist and discuss the heat setting before going in for the treatment.
6. Can I air-dry my hair after treatment?
Yes, you can. Your natural hair texture will still show if you air-dry it. However, there will be practically no frizz.
7. Can I do this by myself?
You can do the treatment by yourself, but you may not get salon-level results.
Do not opt for professional-grade products, as they should only be used by experienced stylists.
Before you buy a treatment, take a look at the product ingredient list. Then, look at the instructions. Are they detailed? If not, it's mostly just a conditioning product.
Even if you do purchase an actual keratin treatment, it will not last as long as a salon treatment. Professional treatments will last for several months, and they will be better for your hair. Therefore, it is advisable to visit your local salon rather than attempting to do this treatment yourself.
8. How many times a year can I get a keratin treatment?
You can have a treatment done up to 3 times a year. They are fairly expensive, but they usually last for six months, so you should not have to do them very often.
9. How much do keratin treatments cost?
Depending on your hair length, quality, and thickness, the price range of these treatments begins at about $200 and can cost up to $500.
10. Are keratin treatments worth the cost?
There are pros and cons of keratin treatments.
One of the biggest pros is that you will have soft, shiny hair that is also much easier to manage.
However, one of the cons is that these treatments may not be suitable for your hair type. Another is that your hair will return to its regular texture in a few months.
11. Are keratin treatments a hoax?
No, they are not a hoax. This misconception stems from ignorance about the treatment and unrealistic expectations about the final result.
12. How can I reverse the treatment?
Wash your hair with salty seawater
Use public swimming pools, which have chlorinated water
Use a corrosive shampoo
Use bleaches on the hair
Alternatively, wait a few months and your hair will automatically return to its natural texture.
Nurture Your Crowning Glory with Keratin Treatment
In theory, keratin treatments should straighten every strand of your hair. However, results vary from person to person. Some end up with slight waves, which they will still need to flat-iron.
It all depends on how porous your hair is, how long the treatment lasts, and what type of solution your stylist is using on your hair.
Speak with your stylist before starting your treatment so that you will know the results you can expect.
Do you long for gorgeous straight hair? Would you like to keep your natural curls intact? Cutters His & Hers Hairdressing offers a variety of keratin treatment salon services to suit your needs.
Visit Cutters to know about their entire range of hair services, high-quality styling products, wigs, and hair extension services.